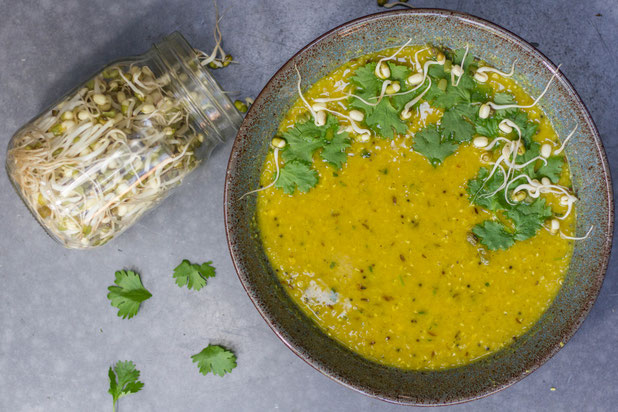 Ingredients:
1 cup red lentils
5 cups water
2 tsp cumin seeds
1 tsp black mustard seeds
1 pinch hing
2 large garlic cloves chopped
5 curry leaves dried
1 small hand full cilantro
1/2 tsp turmeric
1 tsp garam masala
1/2 tsp salt
1 tsp mustard, safflower or olive oil.
Preparation:
Wash the lentils twice then soak in plenty of water overnight.
Place the beans in a large pot with 3 cups of water and bring to a boil 
Boil for +/- 40 minutes.
While the lentils are boiling heat a frying pan and add 1 tsp of oil and add the mustard seeds and cumin seeds. heat until they start to pop.
Then add the garlic and browl slightly. 
add the rest of the spices.
Once the lentils are tender add the spice mixture. Add more water if to thick. 
Boil for another 2-5 minutes whisk with an egg beater to get a smoother texture.
ENJOY!