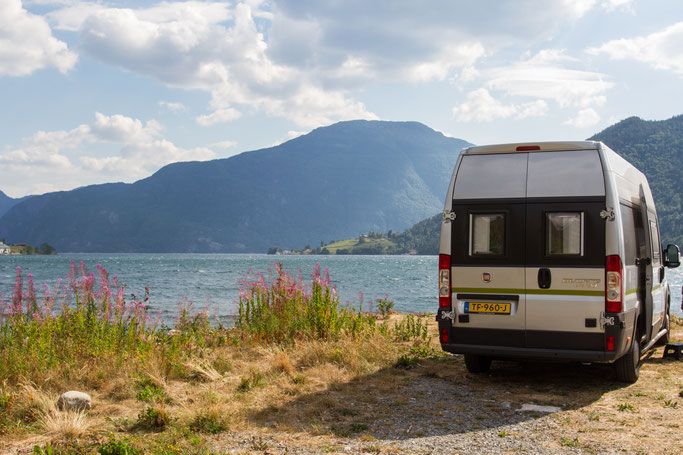 This trip was all about firsts. With a whole new baby and a whole new van we left to Groningen not knowing what this trip would bring us. We didn't know how Flynn would react or whether all equipment that Ferdinand installed would last properly. But when we left home those thoughts also stayed there. Once in Groningen I could see in Flynn's face that he was already enjoying it and I realised all he would need would be, to be surrounded by his parents. 
This was one of those city's in our own country that I had only been to once when I was younger but couldn't remember much off. With Ferdinand being born in this region it had been on our bucket list for a while.  We knew it has a nice city park with a camping so we decided to plan our first stop there. 
Groningen definitely didn't disappoint with loads of nice city streets, small shops, farmers markets on the main squares and A LOT of students it had a really nice vibe. Make sure to visit when doing a road trip in Holland :-)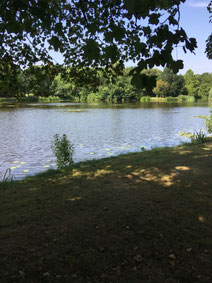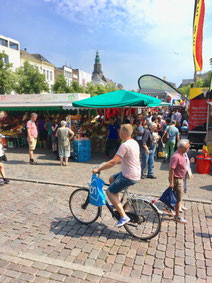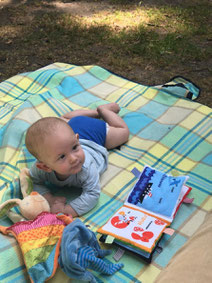 Accessing Groningen with a camper is really easy. You can park just outside the city and take a bus right into the center. You can park at P3 Euroborg Groningen. The bus is for free when you park there.
After meeting up with Ferdinands brother and his family, who were going to join us for the trip, we drove to Hirtshals. Where we booked the ferry for the crossing to Kristiansand. We took the fast ferry so it only took us about 2.30 hours to get there. With a beautiful arrival in Kristiansand it was definitely worthwhile. 
After arriving we found a nice spot to camp. On a parking spot next to a park that descends down to a little harbour. Great for a morning dive!  We didn't actually visit the city but drove up a long the coast. By this time we were all 3 used to traveling and sleeping in the van so we enjoyed long nights (early sleep and early wake) which was one of my worries when we left for this trip. But it didn't seem like it would become a problem at all. 
Driving along the coast was so beautiful even more beautiful then I had expected! I read somewhere the the route from Kristiansand to Ana Sira and from Ana Sira to the Josingfjord would be really beautiful and it really was! From really big boulders along the route, to beautiful mirror lakes, and huge fjords. With beautiful little beaches to swim and little harbours with boats along the coast. I think I could say that this was my favourite drive of Norway so far!
From Ana Sira we drove up to a camping near Stavanger it was really hot and we needed to do some laundry so a camping spot at the beach was more than welcome. The camping itself wasn't really special but we could enjoy the icy cold water, a good shower, some wifi and a day of no driving. We used the wifi to figure out and plan the next part of the trip.
We decided to stay away from the coast line and explore the inner part of the country. This meant we wouldn't need to take too many ferries and we thought this would give us the most spectacular views of the fjords. It took us 2 nights and 2 ferries to make it up to the Hardangervidda National park. With beautiful spots to spend the night along the way, where we could swim and enjoy nature.
So far we had been soooooo lucky with the weather from really hot days, to perfect temperatures for shorts all day long :-) At the erfjord we had our first rain storm at night. We could see it coming in with thunder, strong wind, and a lot of rain. Which meant an evening in the van with our books. Which was nice for a change :-p 
Once we made it to a place near Voss we chose to visit Bergen by train. So the guys could have a break from driving. We enjoyed Bergen it had a lot of cosy spots and streets from very touristy to less touristy. We enjoyed some really nice Vegan pasta and wandered around the city's centre and park. with Flynn in the carrier it is no hassle at all to visit cities with him as a baby. He would take a nap if he felt like it or look around where he was while making funny little noises along the way. 
Just one of those mega touristic places around a beautiful Unesco fjord. With enormous cruise-ships coming in and out everyday, made me wonder about what we are doing to our planet. Besides that it was a beautiful fjord with a nice camping area to do some laundry, have a long hot shower, and relax for a day or two. 
From Flam we took the well known Laerdal tunnel. The longest tunnel in the world (24,5 km) with special effects in them... (blue lights every 6km). hmmm can't say I thought it was that special.. Wouldn't go up there just for the tunnel anyway. But after the tunnel we were back in beautiful nature! From big waterfalls to flat highlands with cute little houses along lakes. Slowly making our way down and past Oslo. To an awesome parking area near the beach. We decided to stay there for 2 nights so we could go check out Oslo the next day without our van and we would know where to sleep at night without looking for a new spot. 
Drobak; one of those cosy towns that you just happen to come across. With an artistic vibe, small harbour and little shops. In this harbour we took a ferry to Oslo's Akker brygge. A very nice boat ride through the fjord. It ended up leaving an hour later than we expected so we didn't arrive in Oslo until after 2. Which wouldn't give us a whole lot of time since we wanted to be back to put the kids to bed on time. ( keeping the same schedule each day with traveling kids eating, sleeping, etc. is necessary to give them some stability in-between all the changes) 
We walked through the cities centre to a nice vegan restaurant called funky fresh cafe a little out back. It was a bit of a walk but worth it at the end. The place had really nice burgers, wraps, juices etc. Flynn enjoyed his black bean burger mash :-P From there we walked to the botanical gardens. Which to me was a bit the same as all the others. But it did have a nice relaxing vibe and really big old trees. From there we had to head back to the bus already. So hopefully get to go back one day because even though we saw a lot on the walks I still have the feeling we missed out on a lot. 
Our first plan was to take the ferry from Larvik back to Hirsthals. But since we were already below Oslo on the east side we decided to cancel the ferry (which was easy with full refunds) and drive through Sweden and then take the ferry at Rodby -> Putgarden. From there the feeling really hit me that our first trip with Flynn was coming to an end. With loads of new adventures on the agenda it wasn't that big of a deal. But it did make me look back on the trip and realise how awesome it was and that it couldn't have gone any better with a 5 month old baby :-)
Want to know where we spent all our nights. Check out this map!!